About Debbie
The Social Dancer
As a Registered Nurse and Holistic Health Coach, Debbie truly believes in the physical and emotional benefits of ballroom dance…and, it's a blast! Although her first love is American Rhythm (Cha-Cha, Rumba, Swing, Bolero, Mambo and Samba), she loves to sway to the music of American Smooth (Foxtrot, Waltz, Tango, Viennese Waltz) too. Debbie and Nick have been social dance partners for several years and are now sharing their joy of dance by teaching it.
Dance Competitor
Deb is also a competitive dancer on the Pro-Am circuit. She is pictured above at the Michigan Challenge with her professional dance partner, Toshko. Together they have placed first in their division at several competitions.
About Nick
The Social Dancer
Nick began dancing about 10 years ago. After many years on the Erie Playhouse stage Nick turned to the ballroom dance floor for a change of pace. He started in group lessons and quickly established a partnership with Debbie DeAngelo. From there the two went from group lessons in Erie, to private lessons also in Erie, to private lessons out of town, to…you get the point. He dances each and every day looking forward to doing so. When not taking dance lessons or teaching dance lessons, he is usually practicing dance lessons.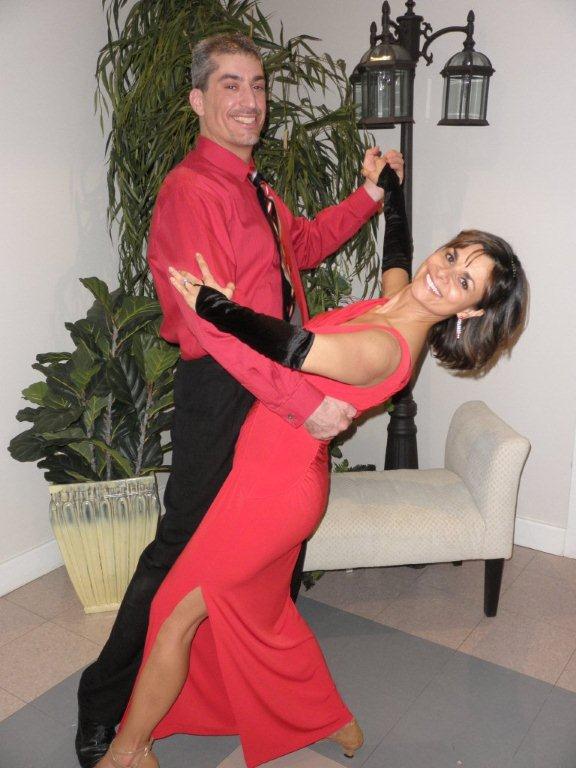 The Dance Instructor
Nick has been teaching for some time now and it is quickly becoming one of his favorite passions. "Watching others succeed at dance is as satisfying as succeeding myself".
Nick looks forward to each and every lesson.